Area Rugs: Southwestern Rugs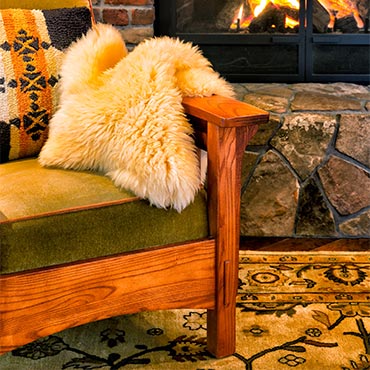 Southwestern rugs are a traditional style of rug that has been produced by Native Americans for more than three hundred years. These days, Southwest rugs are made all over the world but many indigenous families continue to produce these rugs in the traditional way.
When Southwestern rug makers began their art, all weavers would have created the textiles by hand. Today this method continues to be the preferred choice, although increased demand has led some manufacturers to use other, much speedier production methods. The original method of hand weaving and the use of natural vegetable dyes along with the creativity of the Native American artisan, make these a natural choice for art collectors throughout the world. They consistently maintain their value and offer a design statement with few rivals.
Southwestern rugs come in a multitude of sizes, with an enormous range of patterns and designs some of which use traditional family logos and emblems. The designs tend to be highly intricate with a great emphasis on geometric lines and shapes. Religious overtones are generally the impetus for many of the designs, although a natural affinity and appreciation for the environment also plays an important role in this highly creative process. Anytime an artist is motivated by such innocent and noble ideals, you can be assured that the end product, in this case a skillfully, and exquisitely handcrafted area rug, will be the best investment you can possibly make.
If you are looking to buy a Native American rug or carpet you can either buy online or in store. There are lots of trading posts in operation in the area, many of which are supported by the US government. If your requirements are very specific, it is possible to commission your very own pattern directly with a weaver. Many examples of this traditional textile can be found at museums as well as in art galleries where it may be possible to negotiate a good price.
Brand Overview
---

---
Profile
|
Website
|
Video
|
Clean
|
Maintain
From original braids and the finest hand-knotted rugs to innovative indoor-outdoor and youth-friendly collections, Capel offers more rugs in more categories than any other rug company. The company's complete product line includes one-of-a-kind, Capel proprietary, private label and licensed designer rugs.
---

---
Profile
|
Website
Whether your décor taste is traditional, modern or somewhere in-between, we offer a wide range of superior-quality hand-knotted, handcrafted and power-loomed rugs in myriad colors, styles, designs, patterns, weaves, constructions, textures, shapes and sizes to add that wow-factor to every room.